I have been reading for years how the Aldi range of skincare is just as good as any other.  Personally I have only ever used the Day Cream (which at the time came with a pink lid). I checked the ingredients list against a product I had previously used, it turned out that a lot of them were also in the Nivea Q10 Day Cream.  It now seems that Aldi have rebranded the packaging and now call part of their range Q10, with both a day and night cream for just £1.99 each as opposed to Nivea Q10, which is currently £9.99  at Superdrug.  You can check out the Aldi website for the full range of skincare here.  I have also been told their serum is excellent, I shall be buying,  trying, and of course, comparing it to the higher end brands.
After reading on another blog about the Palmers Coco Butter range of facial skincare products,  I sought them out in my local Superdrug and bought the Line Smoothing Eye Cream.  A quick google search led me to the fact that MD Perricone Neuropeptide Eye Contour at £165 contained many of the same ingredients.  The Palmers  range contains Peptides and Retinol which are more often found in up market skincare ranges.  I can only find the Palmers facial range online at Superdrug, Boots only seem to stock the body products but it is a good price point with the  eye cream at only £6.95 at Superdrug here.
A couple of years ago I fell in love with a Tom Ford Fragrance called Neroli Portofino.  I would never pay for a full price product even if I could afford it, this stuff is just too expensive, so whenever I was near a department store I tried my luck by asking for samples and collected quite a few.  The more I wore the fragrance which is a lovely light summer scent, perfect for holidays and hot summer days,  the more familiar it smelled. Again I google searched the ingredients and found them to be the same as a very old fragrance my Nana used to wear called "4711" a German scent still available today. I began to realise what a blantant copy of a classic it was and they both have turquoise packaging! The Tom Ford Eau De Parfum costs £140 for 50ml at Selfridges here and the 4711 costs just £11.49 for the Eau De Cologne at Boots here.
I became more and more intrigued by dupes in both fragrance and skincare and looked at my favourite Lancome eye make-up remover which costs £21 for 125ml here.  Lancome is a bi-phased makeup remover, just like Chanel, YSL etc  but check around the beauty counters or online chemists/department stores and you will find cheaper brands like L'oreal are the same. Buy L'oreal online at Boots here currently with 1/3 off at only £3.33.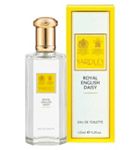 I would also like to thank reader Michelle for commenting and alerting me to the fact the Yardley Royal English Daisy scent is a dupe for Marc Jacobs Daisy.  The Yardley perfume costs just £14.49 for a massive 125ml eau de toilette and is available from Boots here.
And even more research led me to this perfume Dupe article from the Daily Mail http://www.dailymail.co.uk/femail/article-2457998/Cut-price-perfumes-look-smell-like-designer-scent.html
Top Tips:- Always remember to use your loyalty card when buying make-up and skincare whether it be at Boots, Superdrug or Debenhams with your beauty club card. You never know when you might need to spend the points you have earnt, luckily mine didn't get touched at Christmas so I have plenty in reserve for when I need something but don't have the cash!
Whenever I buy high end perfume, skincare or make-up (usually for gifts at birthdays & xmas) I always ask for samples and if the sales assistant (they can get a bit protective) won't give me any, I move on to the next store and don't buy until I get some! Sample sizes are great for travelling and perfume samples fit perfectly in a small bag for a night out, plus give you a well deserved high end treat!